Welcome to Rotary District 6200
Service Above Self across Louisiana
Our District 6200 covers the region of South Louisiana with service above self. Come join one of the many clubs in our district and learn what we think, say and do as Rotarians.
Watch a Message About Our Campaigns
At the time that the Rotary Club of Lake Charles was chartered in 1916, the new club was placed in Rotary District 12. The district governor was W. H. Richardson of Austin, Texas.
When the Rotary Club of Baton Rouge came into existence in 1918, the two clubs (Lake Charles and Baton Rouge) were in Rotary District 20. The district governor was Samuel Mason of Shreveport, Louisiana.
The following year the young south Louisiana clubs were incorporated into District 14 until 1922, at which time they became part of District 17. In 1937 they were
included in District 139.
Joel L. Fletcher of Lafayette was the last governor of District 139 in 1948. The following year the clubs became part of District 202 until 1957 when the clubs were included in District 619. In 1958 the territory became District 620. In 1991 the district number was revised to its current designation, District 6200.
The boundary description of District 6200 in Louisiana is as follows: That portion south of the northern boundaries of the parishes of Beauregard, Allen, Evangeline, St. Landry, Pointe Coupee, West Feliciana, East Feliciana, and west of the western boundaries of the parishes of St. Helena, the Tickfaw River in Livingston, St. John The Baptist, St. Charles and Jefferson, but not including Grand Isle in Jefferson Parish. Inclusive parishes are: Acadia, Allen, Ascension, Beauregard, Calcasieu, Cameron, East Baton Rouge, Evangeline, Grand Isle in Jefferson, Iberia, Iberville, Jefferson Davis, Lafayette, Lafourche, Livingston west of the Tickfaw River, Pointe Coupee, Si. James, St. Landry, St. Martin, St. Mary, Terrebonne, Vermilion, West Baton Rouge, and West Feliciana.
Mark Hudson Lee joined the Rotary Club of Houma in August of 2004 at the invitation of his father-in-law and longtime Rotarian, Dale C. Thompson.
Mark was born in New Orleans and grew up in the Town of Lafitte, Louisiana. After graduating from West Jefferson High School, Mark earned his Bachelor of Science degree in Building Construction in 1979 from Northeast Louisiana University.
His career in construction has taken him to multiple cities during his more than forty years of commercial and mechanical projects. He is currently a Project Manager for Volute, Inc. and also their Safety Director.
Mark was honored to lead the Rotary Club of Houma, Louisiana as president during the 2010-2011 Rotary year.
Involved in District 6200, Mark has served as Assistant Governor, Membership Chair, Rotary Leadership Institute Chair, 2018 District Conference Co-Chair and as a past convener of the District Nominating Committee. He has also been a RYLA Counselor, a PETS Facilitator and helped to develop the first on-line E-Club in the district.
Mark has attended many District Conferences and several International Conventions during his time in Rotary and plans to continue that journey in the future.
Mark has been married to his wife Margaret for more than thirty years, and are the parents of two wonderful daughters. Anna is a graduate of LSU and Laura received her degree from Nicholls State University. Mark and his wife are members of the First Presbyterian Church of Houma where he has served as a Deacon, Session member and Clerk of Session. He has also served his community as a past board member of the Terrebonne Economic Development Authority, Best of the Bayou Music Festival, and The Foundation for Terrebonne General Medical Center.
Contact District Governor
Rotary Areas of Focus
The needs spanning Rotary's seven areas of focus are vast, ranging from lack of access to clean water to the need for immunization that prevent deadly diseases.
Learn more in the Rotary's Areas of Focus publication
Rotary clubs serve communities around the world, each with unique concerns and needs. Rotarians have continually adapted and improved the way they respond to those needs, taking on a broad range of service projects. The most successful and sustainable Rotary service tends to fall within one of the following seven areas:
Promoting Peace
Rotary projects provide training that fosters understanding and provides communities with the skills to resolve conflicts.
Fighting Disease
Disease does not prevent itself. We educate and equip communities to stop the spread of life-threatening diseases.
Providing Clean Water
Clean water, sanitation, and hygiene education are basic necessities for a healthy environment and a productive life.
Supporting Education
More than 775 million people over the age of 15 are illiterate. We take action to empower educators to inspire learning at all ages.
Saving Mothers & Children
We makes high-quality health care available to vulnerable mothers and children so they can live longer and grow stronger.
Growing Local Economies
Nearly 800 million people live on less than $1.90 a day. We are passionate about providing sustainable solutions to poverty.
Protecting the Environment
We are tackling environmental issues the way they always do: coming up with projects, using their connections to change policy and planning for the future.
Rotary has been working to eradicate polio for more than 30 years. Our goal of ridding the world of this disease is closer than ever.
As a founding partner of the Global Polio Eradication Initiative, we've reduced polio cases by 99.9 percent since our first project to vaccinate children in the Philippines in 1979.
We've helped immunize more than 2.5 billion children in 122 countries. So far, Rotary has contributed more than $1.8 billion toward eradicating the disease worldwide.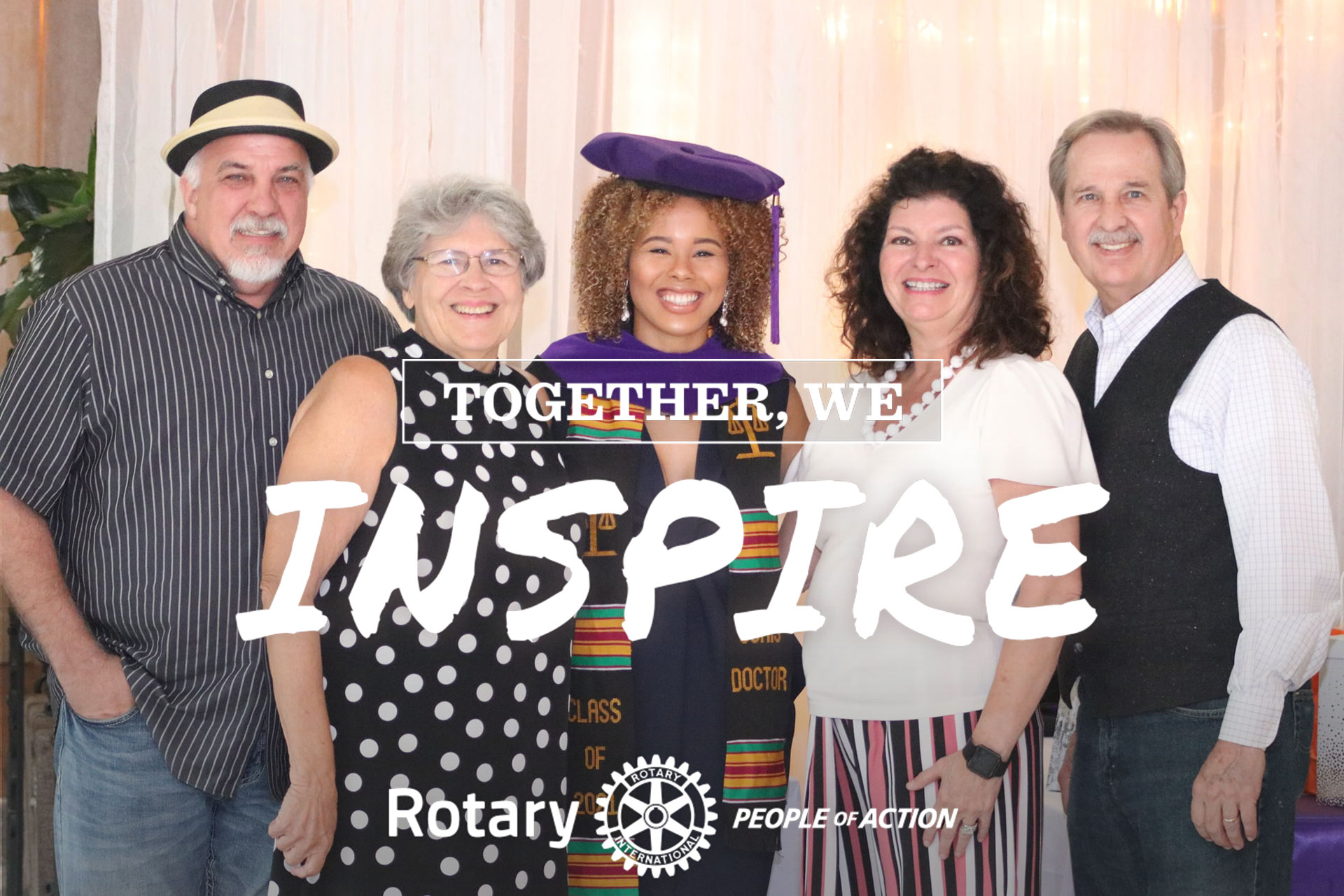 The Rotary Brand Center now has "Create Your Own" templates for club specific "People of Action" print ads and Facebook Posts. You can choose from several headlines and upload your club's photo of Rotarians in action. Find these new templates under the "Materials" and "Create Your Own" menu links at the Brand Center. These new tools add to the previously available templates for club logos, club brochure and youth program promo cards. RI's marketing team promises more "People of Action" templates are coming soon, including for Facebook Page covers.